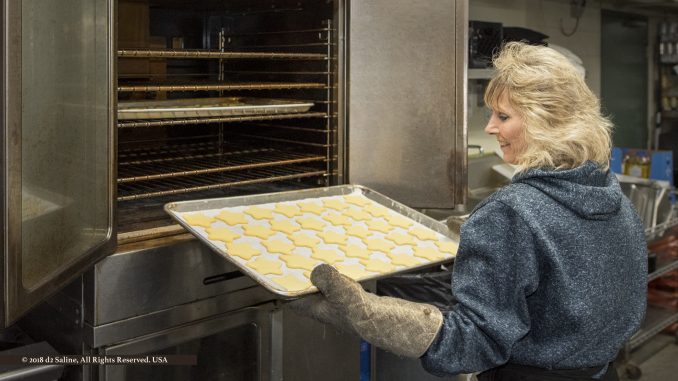 As of this morning when Diane Udell spoke with Saline Journal, she was already committed to making complete prime rib dinners for up to one hundred people by Christmas Eve Day. But that's far from the end of it. Before her schedule is set, that number could increase by half-again as many; maybe more.
And that's not including cookies.
Ms Udell is responsible for baking and catering at Tippins Specialty Wine & Foods in Lodi Township. This time of year, that means providing all the delicacies of a home-cooked dinner for customers more exclusively focused on the "home" part of that holiday equation. If you don't tell, she won't tell. [1]
Here's how it works. For everyone who places their order by 5:00pm on Monday, December 17, she'll have ready for pick-up on December 24 a complete family style meal serving eight to ten people. In addition to main course, this includes gravy and au jus, mashed potatoes, green bean casserole, dinner rolls, and Dutch apple pie. For those serving that night, she'll provide guidance on pickup timing so that everything is right on temperature for the table. For those planning for Christmas Day, she has instructions for re-heating — specific to individual tastes.
When we asked if anyone ever actually did take credit for her cooking, Diane Udell brightly responded, "They do it all the time. I encourage it!"
Thankfully, there are those who do not. They're the ones who generously extol the virtues of such Tippens offerings and provide the word-of-mouth advertising through which an increasing number of others are now benefitting. That includes our own Saline Fire Department, which will be enjoying service from Tippens for forty next Wednesday. [2]
"If people are hungry, I'll feed 'em!" Ms Udell emphasized.
As suggested above, she's also the baking force behind the varied cookie tray offerings here. That oven will remain in production through December 23 with her own special recipies for sugar cookies, peanut butter blossoms, and snowballs (also known as Russian tea cakes). She "asks" for forty-eight hours to put together trays of three dozen, but notes that the store currently has off-the-shelf offerings available.
After the twenty-third, "We'll only sell what's out, until we run out of cookies," she added.
Other than Christmas Day, Tippens is open according to its regular schedule — including December 31 and January 1, 2019. That means they can serve as a solution for office parties, organization events, and gatherings where food prepared by others is a necessary augmentation to watching sports on home entertainment systems.
You want something that's not on the menu? "I can do ribs, baked spaghetti, meat trays, veggies," Diane Udell offered. "I also do pies and specialty deserts and coffee cakes. If you want something, you should ask me."
What about pizza? [3]
"Of course, pizza!" she immediately answered. "We're known for pizza, big pizza. But I don't do the pizzas; you'll have to get in touch with the pizza guys here for that."
References
Tippins Market (Facebook Page).
"Saline Area Fire Department" Saline.
"Somewhere Between National Pepperoni And Sausage Pizza Day, Call Today 'No Man's Land' Pizza Day And Enjoy It There" Dell Deaton (September 26, 2018) Saline Journal.