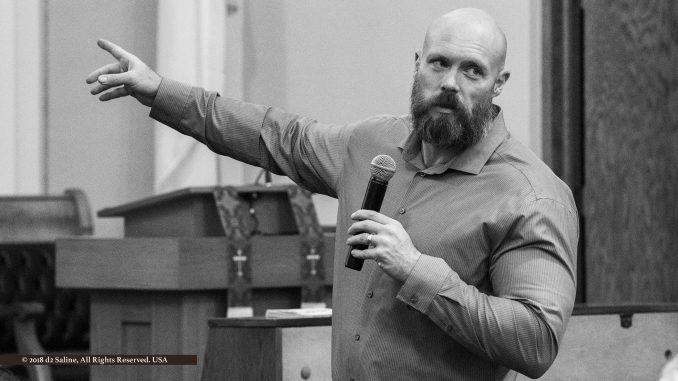 Over three dozen people attended the "Scam Presentation" by Detective Jeremy Stempien of the Novi Police Department last night at St Paul United Church of Christ here in the City of Saline. It's hard to say how that number might have changed if that same talk were held tonight. [1]
Depends on how far people venture outside their local news spheres.
That's because, a bit after the business day started here this morning for Saline Journal, major outlets were reporting on the Marriott International revelation that up to five hundred million guest records had been breached. This included names, eMail addresses, and passport numbers. It is believed that the onset dates to 2014. [2,3]
Major news outlets were quick to react. Experts came out of the woodwork with advice. To be sure, good, solid recommendations — albeit akin to directions on best practices for locking barns, dispensed after any number of horses had escaped.
Topping the list for individuals concerned about exposure was to "put a freeze on their credit inquiries." Detective Stempien recommended this course last night, for all people — even if they believe they have no reason to worry about having their personal information or identities stolen. In fact, he went so far as to say, "If you only remember one thing from my presentation tonight, remember this."
A freeze, by law, is free. And unlike a lock, a freeze is regulated by state law. [4,5]
[A credit freeze, also] known as a security freeze, this free tool lets you restrict access to your credit report, which in turn makes it more difficult for identity thieves to open new accounts in your name. That's because most creditors need to see your credit report before they approve a new account. If they can't see your report, they may not extend the credit.
When it comes to such crimes, impressively large numbers are frequently bandied about. The number of identities stolen. The number of credit card numbers sold on the Dark Web. The number of individuals victimized by fraud each year. [6,7,8]
While Detective Stempien didn't shy from getting into this context, his presentation provided a deeper dive into the substance behind those numbers. As a practical matter, how easy is it, really, for someone else to become "you"? Mechanically, what is involved in such endeavors? Then, appropriately personalilzed, what are the defenses against such crimes?
Did you know that you should never leave outgoing mail for the carrier on your box for pickup?
Thieves routinely steal such envelopes in hopes of finding checks inside. Checks to anyone — they don't care, because they're not going to try and cash them. They want the banking information. With that, it's a simple matter of printing that information on blanks available at any office supply store, and using those instruments to get at funds.
Everyone's heard of credit card skimmers, but what good is that information, really, to a crook? [9]
Detective Jeremy Stempien talked about the ease with which unimprinted plastic could be bought on the web, legitimately, through, for example, Amazon. Bad guys also steal Visa-branded gift cards from the local CVS or Walmart. In all of these cases, the cards have no initial monetary value. But equally easily obtained encoding devices can be used to put your information on them for their subsequent use.
Think you need more time to file your personal income tax return? Be sure that you do: Early birds are far less likely to find that someone else has fraudulently requested their refunds — sent to some other address.
Merchants who rely on markers to spot counterfeit currency shouldn't rest any easier. Scammers are now able to "wash" the printing from lesser denominations such as ones and fives, then ink over them with layouts for twenties and hundreds. Sole reliance on quick identifier pen markings overlooks numerous other intergrated features developed for consumer protection. [10]
Detective Stempien recommended that people change their passwords for access to online accounts far more frequently. Avoid the temptation to use a single site, such as Facebook, to log into other sites. [11]
If it seems the number of newly emerging scams and permutations are endless, the reality is that they are not. The Marriott compromise, then, underscores the need to begin taking steps to protect against this yesterday. And, if nothing else, put a freeze on access to your credit reporting — now.
References